J.N. Allinson Associates, Inc.
Independent Marine Consultants,
Accredited Marine Surveyor
Certified Infrared Thermographer
and Independent Adjuster All Lines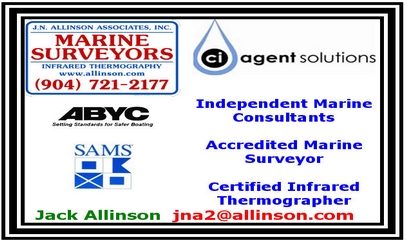 John (JACK) N. Allinson II
SAMS
Accredited AMS #525
.

---
Our Mission Statement:

Integrity, Proactive, Timely,


Innovative
and Accurate ... Exchange of Information



Credit Cards Accepted




Purchasing a boat/yacht sight unseen from abroad?
Hire "JACK" of J.N. Allinson Associates, Inc. to act as your independent AGENT for any of the following services:
assistance in selection,

inspection prior to purchase,

installation of Tracking Unit after boat purchase,


confirmation of repairs,

shipping to your destination,

delivery to the Port of Departure,
TRACKING
Worldwide Coverage
Boat Owners

starting at $12/month*

remotely track the location of your vessel through a secure internet Website
TO SEE TRACKING SYSTEM ...
1st ... contact us at:
Email: jax--trax@allinson.com


then ... click on the "JAX--TRAX" graphic to follow
a
delivery vessel's
route from Cape Town, South Africa to Tampa, Florida from 2006-10-19 (October 19th 2006)
thru 2006-12-09 (December 9th 2006)
---
Service Area: Florida, Georgia, East Coast USA, Caribbean & International

Contact us by:

Telephone (904) 721-2177

Fax (954) 337-0550